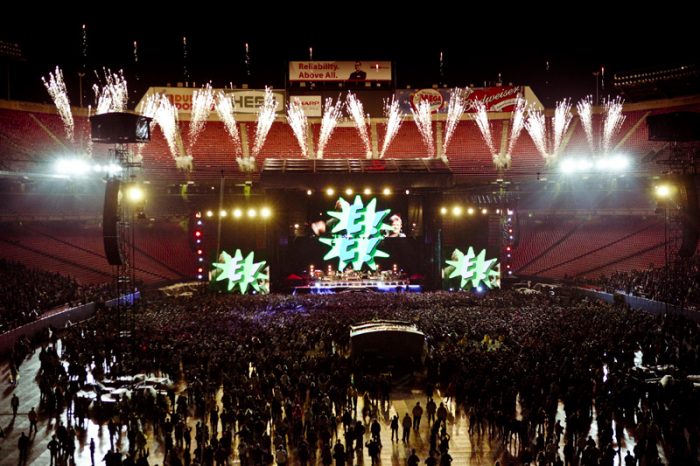 Lighting Designer:
Jeff Ravitz
Tour Director:
George Travis
Tour LD:
Todd Ricci
Moving Light Operator:
John Hoffman
Management:
Jon Landau
Barbara Carr
Equipment Vendor:
Morpheus Lights
Bruce started his year by headlining the 2009 Superbowl Halftime show in Tampa. It was pure Springsteen: full-tilt energy with musical thunder and lightning. It was also the debut of the title song from his forthcoming studio album, Workin' On A Dream.
A few months later, Bruce and the E Street Band hit the road to personally deliver the album to the world. After six months touring in the US and Europe playing to sold out stadiums and arenas, Bruce was the obvious choice to play the final concerts in the soon-to-be demolished Giants Stadium at New Jersey's Meadowlands complex. We pulled out all the stops for that show, using pyrotechnics for the first time on a Springsteen tour, and adding lots of extra video and lighting elements.
Bruce played a song written just for the occasion, Wrecking Ball, and left the hoarse crowd satisfied.