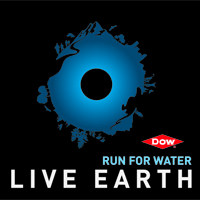 Jeff Ravitz designed the lighting for the studio segments of Bravo TV's Dow Live Earth Run for Water, airing on Friday, April 23 at 7 p.m. (ET/PT). The show is the culmination of Earth Day 2010 and features discussions with impassioned advocate Pete Wentz and water crisis expert Alexandra Cousteau to raise awareness and funds to effectively address this critical issue.
Ravitz and associate Kristie Roldan teamed with set designer Laura Fine Hawkes to create an environment on Stage 1 of Smashbox Studios in Los Angeles, to subtly reflect a natural surrounding to envelop the host and esteemed guests that appeared on the program. An arrangement of pale blue and green panels comprised the background behind the talk-show style seating arrangement, all against a full sky cyclorama that wrapped around the studio. It was a bold look onto which the lighting designer applied natural colors of sunlight to make the panels pop and to warm up the wood-toned elements woven around the seating area.
Ravitz comments, "We worked hand-in-hand with producers Control Room and Live Earth to help them engage their audience in the need to solve this global crisis. Creative producer, Brent Wilson, came to the project with definite ideas for the look of the show and the subliminal atmosphere necessary to help deliver the message about water scarcity for millions of people."
The Dow Live Earth Run For Water consists of a series of 6km runs or walks in 150 cities across 50 countries. That distance is the average many people walk daily to secure water for themselves and their families.
The show includes musical performances originating around the world, featuring entertainers such as Melissa Etheridge, John Legend, Rob Thomas, and the Roots.
For more information about the Dow Live Earth Run for Water visit www.liveearth.org