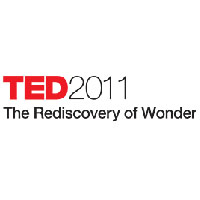 Jeff Ravitz and Kristie Roldan of Intensity Advisors returned for their third year as the lighting designers for the annual TED Conference at the Terrace Theatre in Long Beach, CA. Entitled "The Rediscovery Of Wonder", this year's event, as always, featured forward thinking leaders in the fields of technology, entertainment, and design (whose initials are those for which TED stands).
The four-day program presented inspiring speakers for eighteen minute talks supported by extremely descriptive video and graphics. A-list performers such as Jason Mraz and Bobby McFerrin, were intermixed throughout the sessions for entertainment and variety.
Ravitz explains a bit of the TED intrigue. "The intellectual power of TED has traditionally been staged in an environment that keeps pace with their high place in the world of culture, education, art, and science. The scenery is always complex, layered and designed to help project the speakers' messages in an exciting atmosphere.  Therefore, our lighting must follow suit, and it's never without multiple challenges.  The program is also shot for television to be webcast, to be simulcast to alternate locations, and for DVDs made available after the conference closes. There is high attention to detail and to make the event work as effectively for the in-theatre audience as well as those viewing the sessions via computer or TV."
The show utilized the Terrace's in-house lighting as well as an extensive rental package provided this year by Epic Production Technologies. It ran from March 1 through March 4.  More information can be found at http://conferences.ted.com/TED2011/.
Intensity Advisors is an Emmy Award winning design firm. Projects recently completed include PBS specials for British chart-topper, Adele, and Irish singer Daniel O'Donnell, as well as a Showtime stand-up special starring Kevin Hart and Justin Bieber's 3D movie, Never Say Never.