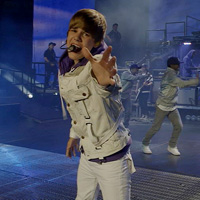 Jeff Ravitz of design firm, Intensity Advisors, consulted, and designed the adaptation of Justin Bieber's tour lighting for the 3D taping of the teen star's first concert movie, Paramount Pictures' Never Say Never. The film is scheduled for nationwide release on Friday, February 11, 2011 and was directed by John Chu of Step Up 3D fame.
"I received a call last summer from the tour's production manager, Tom Marzullo, who also co-designed all aspects of the entire production," explains Ravitz. "Tom knew Paramount was planning the shoot at Madison Square Garden, and he wanted someone on his side to act as an intermediary and translator between the tour and the filmmakers.  I worked hand-in-hand with Tom and supervising gaffer, Andy Ryan, to transform the tour lighting so it covered many bases.  I was also lucky to have the show's other co-designer, John LaBriola, on the shoot to help re-program the original show. The overall lighting scheme needed a lot of adjustments to work for the cameras, especially for 3D.  We also needed to tone and fill scenic elements, and give the audience an on-camera presences, as well.  I had just been in the Garden earlier in the summer to work on an Arcade Fire shoot, so the room was fresh in my mind."
Ravitz brought in supplemental equipment from the tour's vendor, Christie Lites.  The additional lighting included Martin Mac III profiles, Phillips CK ColorBlasts, Syncrolite SXB-5/3s, Lycian M2 truss spots, and a grandMA console, programmed by Kevin Lawson.
Ravitz continues, "The shoot got lucky when the Women's NBA team did not require the Garden for the three-day period prior to the show, as was feared.  The production, as a result, had a greater than usual setup schedule, and every minute was gratefully used."  The two sold-out shows provided more than enough coverage, and featured guest stars, Jaden Smith, and Miley Cyrus. In addition to the performance, the movie will include documentary footage showing Bieber's meteoric rise to fame.
Ravitz is currently preparing for a PBS special to be shot at Nashville's Ryman Auditorium, featuring Irish singer, Daniel O'Donnell, and a Showtime comedy special starring Kevin Hart.  A recently completed DVD for rock band, Styx is in final editing.
Intensity Advisors is a lighting design firm based in North Hollywood, CA, and specializes in live entertainment and events being shot for television, webcasts, film and 3D capture.  The company also designs studio-based broadcasts and lighting system installations.