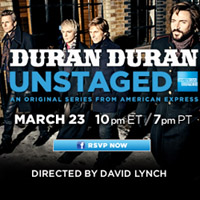 Jeff Ravitz and Intensity Advisors are providing lighting design for their fourth installment in the American Express series, "Unstaged".  Featuring British super-group, Duran Duran, playing live to the web on Wednesday, March 23 from the Mayan Theater in downtown Los Angeles.  The band will be playing hits from their new album, All You Need Is Now, as well as other hits as part of the second season of Unstaged.  The show will be directed by David Lynch, best known for films Blue Velvet, Dune and Mulholland Drive, and TV series, Twin Peaks.
Ravitz explains a bit about the show. "David Lynch was asked to provide a fresh approach to the presentation of concerts in this series of live-to-the-internet webcasts.  He designed and created a series of video clips and images that will be superimposed on the screen over and around the band.  Every song has a unique and specific treatment.  Our job was to create lighting that is stark, in high contrast, and that provides a good "background" upon which David's images can overlay.  It's been a fascinating, fun, and educational trip through the very creative processes that have made David Lynch a cutting-edge and "different" director.
"The Mayan Theatre has been a perfect environment for the show.  The theatre/night club was meticulously designed in a Mayan Temple motif and the architectural details are beautiful, fun and campy.  We've had a good time maximizing the look of the room while remaining true to our mandate to keep things sparse.  Believe me, the show is well worth seeing and will absolutely be a new viewing experience."
Ravitz interfaced with tour LD, Mark "Junior" Jacobson to design the show.  Junior added show-enhancing lighting elements to give the concert song-specific accents and color.
Previous Unplugged concert webcasts Ravitz and his associate, Kristie Roldan, have worked on have featured Alicia Keys, Arcade Fire, directed by Terry Gilliam, and Sugarland, directed by Kenny Ortega.