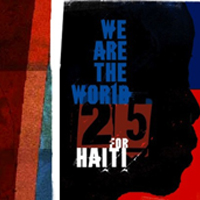 Lighting designers Jeff Ravitz and Kristie Roldan were awarded the task of designing the lighting for the 25th anniversary re-creation of Quincy Jones' and Michael Jackson's We Are The World.
Originally recorded by an eclectic super group of musicians and celebrities under the banner USA For Africa, the new version's purpose is to generate aid and awareness of the recent catastrophic earthquake that devastated Haiti. Ravitz and Roldan mobilized with less than a week of lead time to design and organize the lighting for the production, which was shot in 3D at Henson Studios, the same studio space (then called A&M Studios) where the original song was recorded. Roldan was onsite as lighting director for the two day setup and shoot, which also included lighting interviews and solos in another five studio spaces throughout the Henson complex. Epic Production Technologies of Oxnard, CA provided lighting equipment and crew for the complex lighting system which had to squeeze into the small recording studio alongside over fifty performers and camera equipment. Olesen/Hollywood Rentals provided interview lighting equipment. The shoot was directed by film director, Paul Haggis, and, for the 3D component, by Mark Lucas of Action 3D Productions. Quincy Jones again produced and conducted the recording, which included stars such as Barbra Streisand, Miley Cyrus, Kanye West and Jennifer Hudson.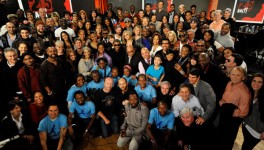 The executive producer of the shoot was John Rubey of AEG-TV. Ravitz comments, "This shoot came about so quickly we barely had a moment to ponder the overwhelming nature of the production's mission. But under all of the design and coordination and minute-by-minute changes, there was a strong sense of the true meaning and aim of this job."
The video made its debut during the opening ceremonies broadcast of the Vancouver 2010 Winter Olympics.