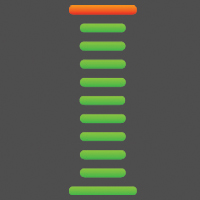 Lighting designer, Jeff Ravitz, has completed a month of television projects that run the gamut of genres and styles.  The designer and his associate, Kristie Roldan, have crisscrossed the country working on an opera telecast, a talk show series starring CeeLo Green, two music videos for Nick Jr. kiddie idols, The Fresh Beat Band, a stand-up comedy special, and live studio coverage of the E3 convention in Los Angeles for Spike TV.
Ravitz elaborates, "The opera was so interesting and challenging.  The Minnesota Opera has been trying to organize a shoot of one of their productions for a few years, and their recent staging of Wuthering Heights finally provided the opportunity.  We worked hand-in-hand with the opera's theatrical lighting designer, Robert Wierzel, to adapt his design for television.  It's still in post so a release date hasn't been announced.  Next, we were asked by Fuse TV to design a talk show with musical performances hosted by superstar CeeLo Green, who's been riding high on the success of his single, Forget You and his singing competition show, The Voice.  We shot six episodes for the series, which debuts this week.
"The music videos were a lot of fun to work on.  The Fresh Beat Band is a creation of the Nick Jr. division of Nickelodeon.  The four member group, who star in their own weekly series, is huge with the six to ten year old demographic.  We created a concert environment for them on a soundstage in LA, and shot two songs with all the accoutrements of a big rock show.
"Then, off to Boulder to shoot comedian TJ Miller's first stand-up special, for Comedy Central.  He has an amazingly quick, fertile wit and his delivery runs from completely silly and absurd to dry and deadly!  We had a blast.
"E3 is the annual electronic gaming convention, and it turns out this industry runs neck and neck with the movie business, profit-wise.  So, it clearly demands media attention.  Spike TV set themselves up in a studio with a window view of the convention hall in LA.  We had two days of live-to-air interviews with all the biggest executives and programmers from Nintendo, Sony, Microsoft and others, plus demos and instant reporting of the newest releases that were being announced, all on three distinct set areas in a very tight studio."
Add to the mix two webcast concerts featuring My Morning Jacket, and Robyn, and this summer's Styx concert tour design, and you have to admit the two designers covered a lot of territory in just a few weeks.
Intensity Advisors is an Emmy winning lighting design firm based in North Hollywood, CA, and specializes in live entertainment and events that are being shot for television, webcasts, film and 3D capture.  The company also designs studio-based broadcasts and lighting system installations.