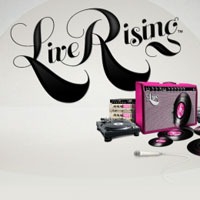 Lighting designer, Jeff Ravitz has completed the first three in a series of shows entitled Live Rising, presented by T-Mobile for webcast on Facebook at T-Mobile's fan page, and on Windows Live Messenger and mobile phones.
The first concert featured British pop sensation, Ellie Goulding and streamed live from Chicago's Lincoln Hall nightclub on March 30.  The production team, assembled by executive producer Howard Carey of Giant Pictures, continued to Austin to shoot indy rockers Cold War Kids, webcast live from Stubb's BBQ, an Austin music Mecca.  The third show originated from Baltimore on April 9 and presented rapper, Rye Rye, in her hometown. Viewers can see preview and trailers on T-Mobile's Facebook fan page, http://www.facebook.com/TMobile?sk=app_158467784209269.
"The webcasts are being presented in smaller, intimate venues," explained Ravitz.  "The Baltimore show was shot in an art gallery to a packed audience of 80.  The webcasts are intended to give every viewer a front-row experience."
Ravitz recently lit Duran Duran directed by David Lynch, for the American Express series, Unstaged, and a PBS special featuring Family Guy's Seth Macfarlane.  He and associate, Kristie Roldan, are currently adapting the lighting for the  opera, Wuthering Heights, for broadcast.