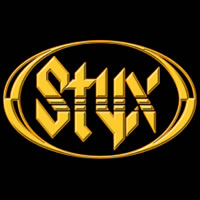 When Styx decided to capture their current tour for a DVD release, they asked their lighting designer of over thirty years, Jeff Ravitz, to join them in Memphis to light the show for television. The band had been on a six-week tour to commemorate the roughly thirty-year anniversaries of two of their most popular albums, The Grand Illusion and Pieces of Eight. Ravitz designed the original stage shows for both tours back in the '70s when Styx was ranked the #1 most popular American rock band by the Gallup Poll.
"This is one of those moments of revival that are so satisfying in life," comments Ravitz.  "We had such a great time putting those shows together, but when they were finished, it was assumed they were in our past.  So, to relive them all these decades later, and to hear the band play their music as good if not better than before, is an experience of extreme joy.  Not only is our production technology more advanced and elaborate than in the 1970s, but the band members also have a few more years of showmanship under their belts. They're fit, in great voice, and infinitely evolved in their skills."
Ravitz has also moved forward with the times, having become a designer of lighting for televised live entertainment.  In this case he was adapting his own design and the cues created by him and tour lighting director, Libby Gray, to make the theatrical stage lighting more balanced for the high definition shoot.  The show was directed for TV by Lawrence Jordan, who also directed Styx's PBS special of the twentieth anniversary tour of their Paradise Theatre album. Stephen Warner and Terry Fryer of Third Wave Productions produced the show, and Trio Video provided the TV recording truck.
Jeff Ravitz is a founder of the design firm, Intensity Advisors, LLC, which concentrates on lighting for televised live entertainment and events. He is a Primetime Emmy recipient and recently was awarded the Pacific Southwest region's Emmy for lighting excellence for his design of Channel 4 San Diego's A Salute To Teachers Awards.