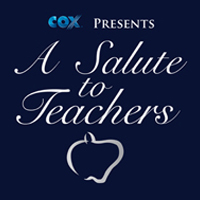 Jeff Ravitz has received a 2010 Emmy nomination for outstanding lighting design from the Pacific Southwest chapter of the National Association of Television Arts and Sciences (NATAS), for his work on A Salute To Teachers 2009. The annual awards broadcast is presented by the Cox Communications network and is produced by Channel 4 San Diego, an NBC affiliate. This year's guest host was CNBC anchor, Jane Wells joining Channel 4's Dennis Morgigno.
The show is aired "live-live" from the historic Balboa Theatre in downtown San Diego, and is sponsored by Ashford University, CNBC, Sony, and other local supporters. Ravitz comments, "The producers set a high bar for excellence. We, of course, always aim to deliver Academy Award show standards, even though we are working with Board Of Education budgets."
In addition to honoring five new Teachers Of The Year, the program presents musical entertainment from five representative schools. "The performances are astounding in the quality and maturity of talent exhibited by the students," says Ravitz.
Ravitz, who has been honored with a Primetime Emmy and two LA regional Emmys, has been nominated three previous times for this program, and has received two Telly Awards for it. Recent work includes the revival of Live By Request on PBS, featuring John Fogerty, and the studio segments of Dow's Run For Water, an Earth Day special broadcast on Bravo.
Project:
A Salute To Teachers 2009
Network:
Cox Cable Network/
Cox Communications
Lighting Designer:
Jeff Ravitz
Associate Lighting Designer:
Kristie Roldan
Programmer:
Tim Mercer
Producers:
Carla Hockley
Deborah Davis-Gillespie
Channel 4 San Diego
Venue:
Balboa Theatre, San Diego
Director:
Tom Ceterski
Equipment Supplier:
Starlight Services, Inc.