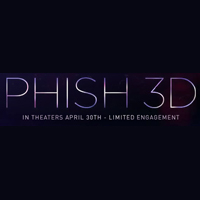 Jeff Ravitz was the 3D lighting consultant for the theatrical release Phish 3D, scheduled for nationwide release on April 30 for an exclusive one-week run. The performance was shot in 3D during the band's Festival 8, held at the California site of the annual Coachella Music Festival. The two-and-a-half hour film was distilled and edited from 16 hours of footage over the course of three-days and eight-sets, including Phish's first ever full-length acoustic performance, which was presented as a daytime event.
Ravitz was hired by Action 3D Productions to collaborate and coordinate the lighting with Phish's highly lauded and long-time lighting designer, Chris Kuroda. Ravitz comments, "The process was so enjoyable. Chris understood that the lighting needed to be somewhat tailored for the camera, and I understood that the show had to retain the exciting elements that Phish is famous for delivering. With this meeting of the minds we proceeded to carefully add lighting equipment and adjust levels to be optimum for television and especially, for 3D shooting. The producers, as well as the band, were thrilled with the results and how well the 3D effects worked for their show."
Ravitz has consulted on five other 3D shoots for Action 3D Productions, including the 2009 Mile High Music Festival, All Points West, Lollapalooza, Austin City Limits, and the 25th anniversary shoot of We Are The World.
Tickets may be purchased via http://www.phish3dmovie.com/theaters