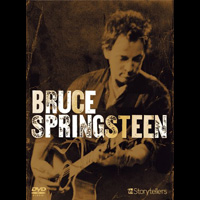 Jeff Ravitz designed the television and performance lighting for Bruce Springsteen's solo/acoustic appearance on VH1 Storytellers. The High Definition, 24p broadcast premiered on April 23rd, two days before the release of Springsteen's new album, Devils & Dust.
The special was an unusual opportunity for fans to see Springsteen on a one-on-one basis. After each song he explained, often line-by-line, the thought processes, inspirations, and meanings behind the lyrics of many of his new and classic compositions. Ravitz comments, "The objective was to create a visual complement to the strong narratives in Bruce's songs. The video imaging technician was a significant partner in achieving the sparse look and compelling emotions we wanted to convey because we were certainly not approaching this design with traditional methodology."
The lighting system was provided by Production Solutions of Reading, PA, and included Vari-Lite VL-1000 TSs, Morpheus Panabeam XR2s, and Martin Mac 2000 Profiles and Performances. The show was shot at the Two River Theatre in Redbank, NJ in early April.