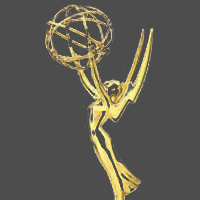 Lighting designer, Jeff Ravitz, has received a Prime Time Emmy Award for his work on the HBO special, Bruce Springsteen and the E Street Band.
The award, for Outstanding Lighting Direction (Electronic, Multi-camera, for a Variety, Music or Comedy Special) was presented at the 2001 Emmy Awards Presentation for the Creative Arts on Saturday, September 8, 2001, at the Pasadena Civic Auditorium.
Marking the first time a Bruce Springsteen and the E Street Band concert has been televised, the special was shot in high-definition format during Springsteen's 10 record-setting, sold-out shows at Madison Square Garden in New York City in the summer of 2000. The concert was the finale of Springsteen's 1999-2000 world tour, and first aired on HBO in April, 2001.
This is Ravitz's second Emmy nomination, having previously been named for his design for "Cher…at the Mirage" on CBS in 1990. It is his first win.
"The Springsteen show was one of the most exciting to work on," Ravitz said. "Bruce sets the tone with a performance full of strength, emotion, personal reflection and incredible showmanship. My mission was to reflect all of that in the lighting, to be true to Bruce's expression, and yet guarantee a show that maintained the best television broadcast standards.
"I am particularly honored to be recognized by my professional peers with this award."
Ravitz is also known for his broadcast and show lighting for ice show specials featuring stars such as Kristi Yamaguchi and Tara Lipinski, studio telecasts such as The Christopher Lowell Show on Discovery Channel, and many other concert television specials, including The Go-Go's Live From Central Park on VH1, and the Godsmack concert on MTV's All Access and MTV2. Recent shoots for DVD release and future broadcasts include "Ringo Starr and his All-Starr Band" and "The Monkees."