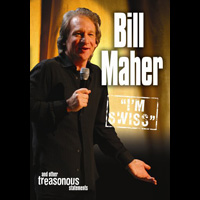 Jeff Ravitz designed the lighting for the latest Bill Maher stand-up comedy special, entitled BILL MAHER: I'M SWISS, to debut on HBO Saturday, July 30. The High Definition broadcast was shot at the Schnitzer Concert Hall in Portland, OR.
Ravitz comments, "We were able to design almost the entire show utilizing the Schnitzer's extensive inventory of lighting fixtures. Also, the venue has absolutely ideal built-in lighting positions, so we were never at a loss for the perfect angle to light Bill and the scenic background, as well as the amazing Schnitzer architecture.
"Working with Bill was a delight.  He consulted with us on his wardrobe choices, which rarely happens. His only other serious request was that we not overlight the audience. To accommodate this and still create a good balance and composition for the camera, we found an angle that nicely highlighted the crowd and allowed the camera to catch laughter and reactions to his controversial humor, while not blinding them or making them too bright for the overall picture."
Jeff Ravitz has received two Emmy Awards and three nominations for his lighting designs. Recent broadcasts include VH1 Storytellers Featuring Bruce Springsteen, a Jimmy Buffet Pay-Per-View broadcast, and the record breaking Comedy Central Special and DVD release by comedian, Larry The Cable Guy. Ravitz will begin shooting the new ABC comedy series Sons & Daughters this September.