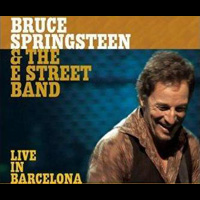 Jeff Ravitz designed the TV lighting for the October 16 Europe-wide live broadcast of Bruce Springsteen & The E Street Band's performance from Barcelona, Spain. The show was transmitted in High Definition, 25p format. Ravitz also designed the stage lighting for the band's current world tour.
The concert was aired by MTV Networks Europe and VH1 UK as "A Night With Bruce Springsteen And The E Street Band."  It is estimated that the show reached over 127 million homes.
"Any live broadcast prompts some jitters, and this was no different. Power or transmission failures, missed cues and other train wrecks can give anyone involved some good nightmares.  We also had the added pressure of doing a show on a fast track setup schedule, no real rehearsal to speak of, daylight streaming into the arena until almost showtime, and a language barrier with some of our follow spot operators.  The knowledge that a hiccup would be seen in 127 million homes was not a calming thought!"
Ravitz is also known for his work on many concert broadcasts for rock icons like Roger Waters, Teddy Pendergrass, Ringo Starr, and Springsteen, on ice show specials featuring champions such as Brian Boitano and Tara Lipinski, as well as for game shows and studio telecasts such as The Christopher Lowell Show on Discovery Channel. Soon to be released specials & DVDs are of comedy troupe, The Kids in the Hall, and music superstar, Usher.
Lighting Designer: Jeff Ravitz
Whole Hog Programmer:  Jason Badger
Equipment:
Mac 2000
Mac 600
Whole Hog II