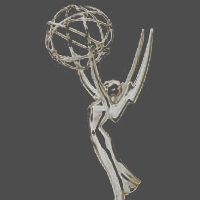 Internationally recognized lighting designer, Jeff Ravitz has received a Prime Time Emmy Award nomination for his lighting design on the recent Bruce Springsteen and the E Street Band special on HBO.
Marking the first time Bruce Springsteen and the E Street Band has been presented in concert on television, the special was shot last summer in high-definition format during Springsteen's record-setting, 10-show sell-out at Madison Square Garden in New York City.  The concert was the finale of their triumphant 1999-2000 world tour.
This is Ravitz's second Emmy nomination, having previously been named for his design for Cher Live at the Mirage on CBS.
The broadcast was a live performance of Springsteen's touring show.  Ravitz had designed the show lighting for the tour and was called in to adapt the design for the needs of television.  Careful attention was given to Springsteen's desire that the show not appear to have been given any special treatment for TV.  The star's sensibilities demanded that the arena environment he creates as a performer be maintained.
Ravitz comments, "Bruce is remarkable for his ability to create a strong feeling of intimacy throughout a cavernous arena filled with 15,000 people. My lighting has to reflect and respect this.  By the same token, when he is ready to let loose, he can transform that arena into a quaking football stadium.  The audience becomes part of the show."
To that end, Ravitz added a subtle amount of audience lighting to enhance that which is already used in the live show.  At times, it became important for the television viewer to see the full scale and size of the arena crowd, who revere Springsteen in a most demonstrative way.  However, it was important to Bruce that this lighting not be used in the style more typical of many televised concerts, which have a constant glow of lighting at all times on the audience.
The live performance uses color liberally for the artists' key lighting to reflect emotion and enhance the live show contrast.  In discussions between Ravitz, Springsteen, and director Chris Hilson, it was agreed that this would render close-ups, which comprised the bulk of the show's final shots, unflattering.  To address this issue, color was adjusted for the camera.  Keylight was balanced to 3200°K to allow the many shades of blue Ravitz uses to read accurately.  In addition, intensities for the main performance lighting were reset to balance the contrast ratios for the camera.
Ravitz is also known for his broadcast and show lighting for ice show specials featuring stars such as Kristi Yamaguchi and Tara Lipinski, studio telecasts such as The Christopher Lowell Show on Discovery Channel, and many other concert television specials.
Viewers can see Ravitz's designs for The Go-Go's Live From Central Park on VH1, and the Godsmack concert on MTV's All Access and MTV2.
Bruce Springsteen and the E Street Band Television Special Credits:
Lighting Designer: Jeff Ravitz
Directed by: Chris Hilson
Produced by: George Travis, Jon Landau and Bruce Springsteen
Touring Lighting Director: Gregg Maltby
Lighting Equipment Vendor:  Morpheus Lights
Automated Lighting Programmer: Mike Hall
Automated Lighting Operator: Colleen Dulin
Crew:  Brad Brown (crew chief)
Troy Garcia
Brad Buehler
Sean Finnegan
Dave Carr