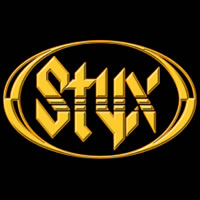 Lighting designer, Jeff Ravitz, is working with one of his earliest clients, Styx, designing their segment of the Can't Stop Rockin' tour which features Styx and REO Speedwagon.  The co-headline tour kicked off May 12 in Amarillo, TX and will tour the U.S. through the summer, with 38 Special as the special guest opening the show.
"Styx is a dream group to design for," comments Ravitz.  "Their music and show choreography are so conducive to interesting cuing that can be closely tailored to the songs' dynamics and the band's stage moves. I got lucky being paired with them early in my career when I was burning to do theatre, but also loved the excitement of rock 'n roll. Our shows were described as highly theatrical, which was exactly what we were going for."
The current tour was co-designed by Ravitz and REO LD, Paul Dexter, and is supplied by Epic Production Technologies.  Ravitz and Dexter imbued the design with individual elements needed for each act, and then added an assortment of lights and effects for joint consumption.  Each band has a unique trim and angle for the truss configuration.  Ravitz adds, "I always learn a lot from Paul's style.  I rarely get to interface with my fellow designers, so this was a lot of fun."
Ravitz's show is operated by tour lighting director, Libby Gray, who has operated for Ravitz and Styx since 2003.
The show also features a full backdrop of Martin LC video panels with custom content for each band.
Emmy recipient, Jeff Ravitz, has recently designed the television lighting for a DVD of Terry Fator's Las Vegas show, a Journey DVD shot in Manila, the In Praise Of Mom Mother's Day nationwide cinema-cast, and Telemundo's Concierto a Caballeros series.   He also designed this year's Bruce Springsteen & The E Street Band tour.